Description
Connections
Total Video Inputs – 11 with 10 active.               SDI Audio Outputs – 2 Ch embedded into SDI outputTotal Video Outputs – 10                                      Total Aux Outputs – 3SDI Rates – 270Mb, 1.5G, 3G, 6G                       Down Converted SDI Output1 x 10-bit (Ultra HD 4K to HD)Total Audio Inputs 2 x XLR. 2 x RCA.               SDI Preview Output 1 x 10-bit SD/HD/Ultra HD 4K switch

Total Audio Outputs 2 x XLR Program.            Total Multi Views x 1

Reference Input Tri-Sync or Black Burst.         Video Input Re‑Sync On all 10 inputs.

Control Panel Connection Ethernet supports 10/100/1000 BaseT. Allows direct connection between panel and chassis, or via network.

SDI Video Inputs 10 x 10-bit SD/HD/Ultra HD 4K switchable. 2 channel embedded audio.

Tally Output Added via ethernet connection to Blackmagic Design GPI and Tally Interface product. (Not included.)

HDMI Video Input 1 x HDMI type A. 10-bit SD/HD/Ultra HD 4K switchable. 2 channel embedded audio.

Analog Audio Outputs 2 x XLR.                          Computer Interface 1 x USB 2.0 port.
Standards
SD Video Standards 525i59.94 NTSC, 625i50 PAL
HD Video Standards
720p50, 720p59.94
1080p23.98, 1080p24, 1080p25, 1080p29.97, 1080p50, 1080p59.94
1080i50, 1080i59.94Ultra HD Video Standards 2160p23.98, 2160p24, 2160p25, 2160p29.97SDI Compliance SMPTE 259M, SMPTE 292M, SMPTE 424M.

Video Sampling 4:2:2.

Color Precision 10-bit

Color Space REC 601, REC 709, REC 2020.

HDMI Input Resolutions for Computers
720 x 480i 59.94Hz,
720 x 576i 50Hz,
1280 x 720 59.94Hz,
1280 x 720 50Hz,
1920 x 1080 50Hz,
1920 x 1080 59.94Hz,
3840 x 2160 23.98Hz,
3840 x 2160 24Hz,
3840 x 2160 25Hz,
3840 x 2160 29.97Hz.
Physical Specifications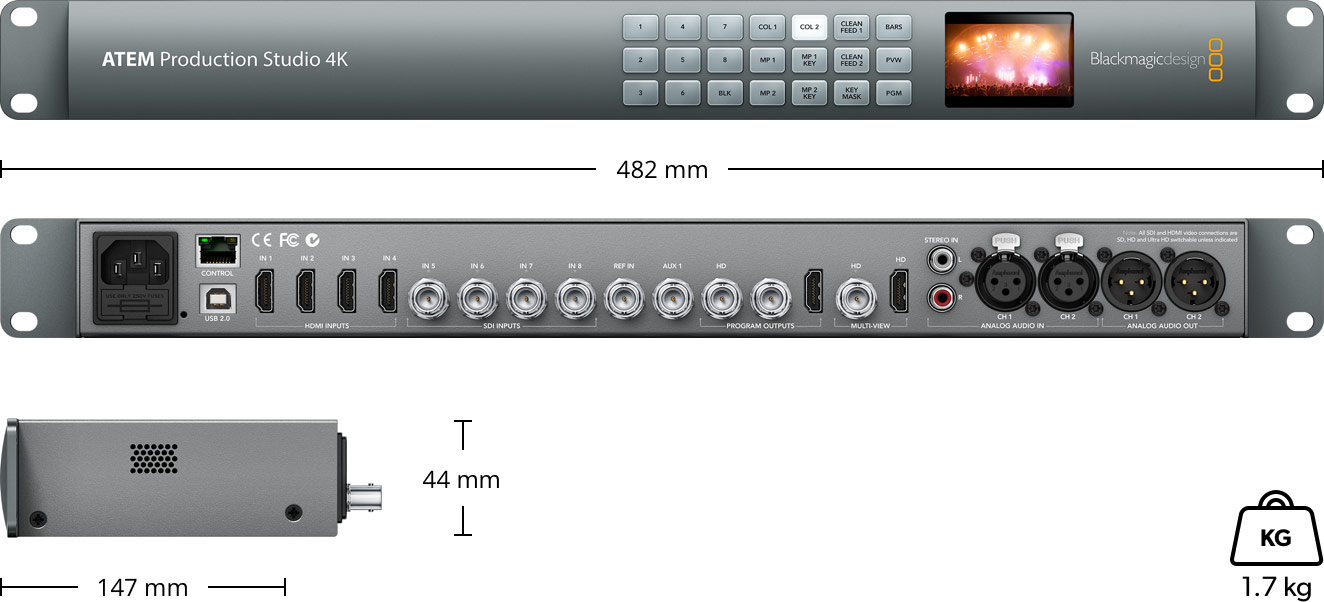 What's Included
ATEM Production Studio 4K
SD card with software and manual
Warranty
12 Month Limited Manufacturer's Warranty.